14 février 2018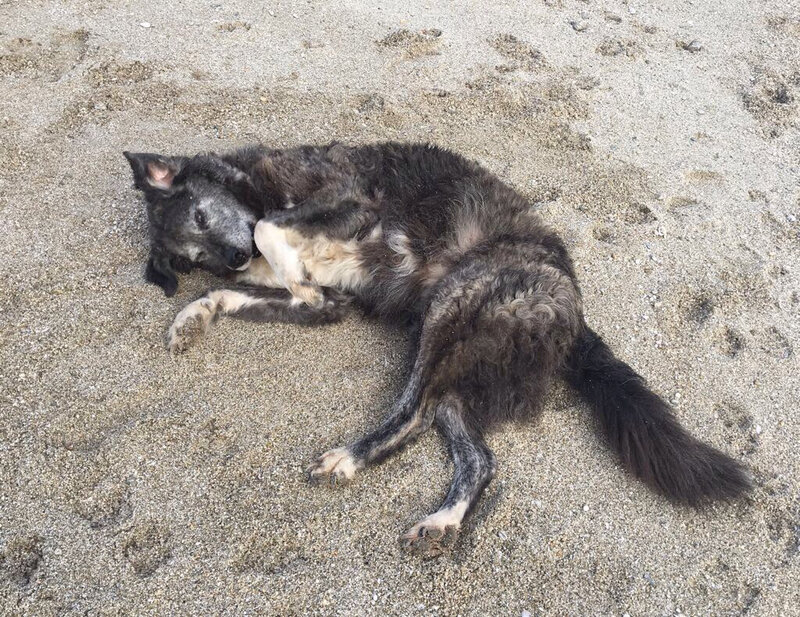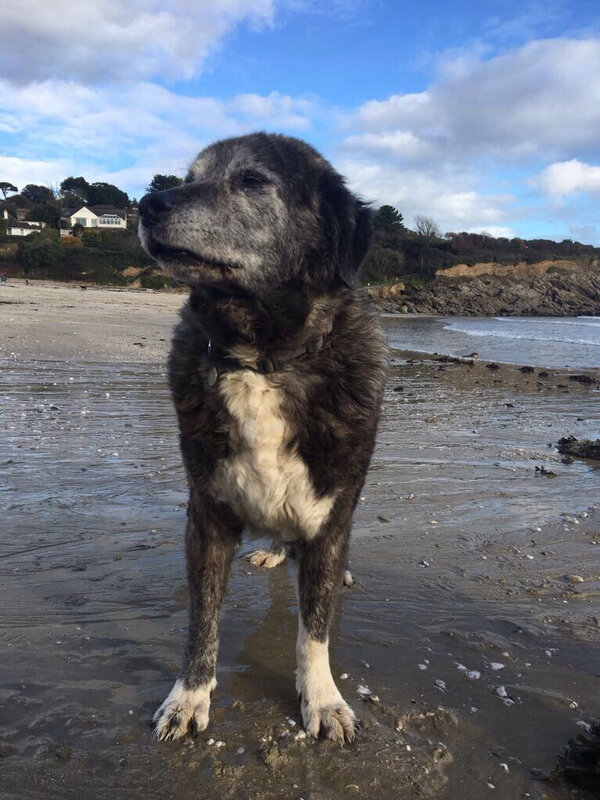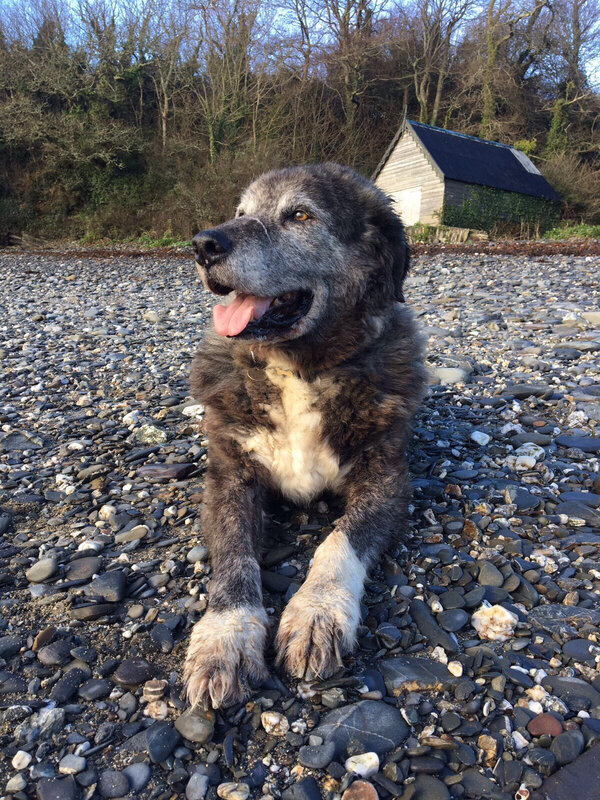 It was a warm cloudy day at Mawgan Porth beach in Cornwall. After trying and trying to catch even the smallest of waves, ( and failing miserably) I gave up. Cold and wet I made my way out of the rough waves. After a minute or so of walking I turned around to watch the waves breaking. That's when I noticed a black outline of our dog. His white shaggy chest fur smashed against the waves. I heard him whining, and felt heart broken to see him struggle, so I rushed towards him.
Once I had reached him I realised why he was whining, he wanted to get my Dad out of the surfing waves. I tried pulling him out of the water but he didn't budge. What you need to know is that Spud is not a chihuahua! In fact, when he's on two legs he reaches my Dad's chest. Exasperated, I tearfully shouted to my Dad " Dad, Spud, can you bring him to shore?" but my Dad just ignored me and finally said " he'll be fine ".
As I listened to Spud's high pitched whining, I watched him struggle. I could tell he was scared and worried too. Even though I was cold and my Dad wasn't helping I couldn't leave Spud. Determined, I kept insisting for Dad to get out. After what felt like ages I watched my Dad to get out. I knew Spud would follow because my Dad is his special person and that's exactly what he did.
Seeing Spud trotting in front with his tongue out and his tail wagging I released my fear. On our way back I walked behind my parents happily telling each other how they caught waves.
18 janvier 2018
These are some magic squares that I invented myself. They are very good and easy to make, I hope you enjoy them too.
Ingredients:
- 2 medium eggs
- 125ml vegetable oil
- 250ml milk
- 200g sugar
- 400g plain flour & 3 tsp of baking powder
- 1 tsp salt
Filling:
- blueberry jam
- Nutella
- lime zest custard
(or choose your own )
Method:
1. Heat the oven at 200C.
2. Beat the eggs lightly in a large bowl.
3. Add oil and milk, mix until just combined then add sugar until smooth.
4. Sift the flour, salt and baking powder until is just smooth (don't over mix it or it will make the square tough.
5. Fill the tin two thirds and bake for 20-25 mins (check with a cocktail stick to see if cooked).
6. Once baked, cut it in equal squares. Cut them half open and spread your filling.
Custard:
3 eggs yolks
3 tbs sugar
3 tbs flower
125ml milk
lime zest if added
- mix eggs and sugar first
- add flour and milk
- stir it gently on a flame until thickened
Your custard is done!
TIP : Put cling film on the custard surface to stop a skin from forming.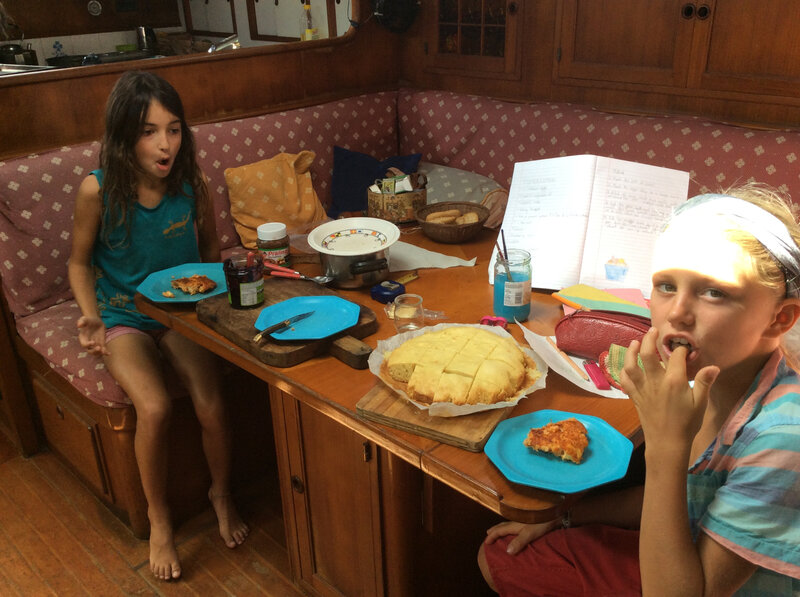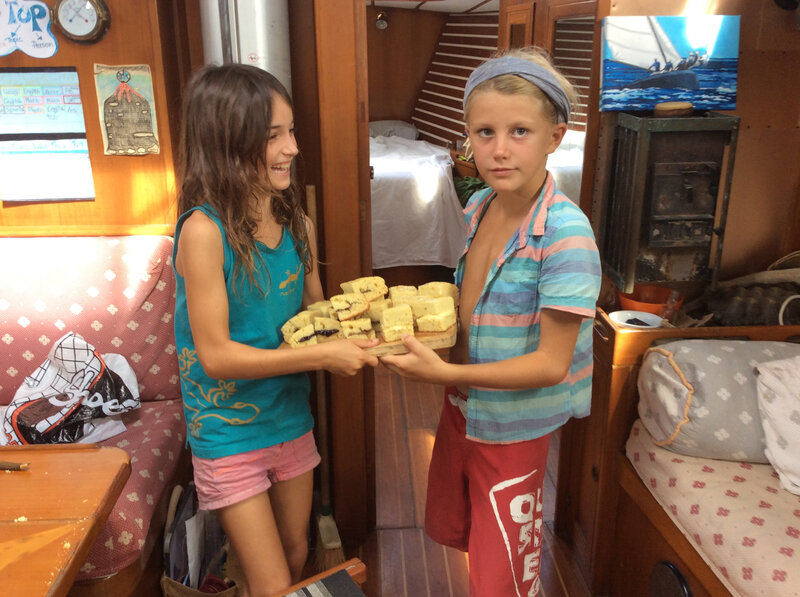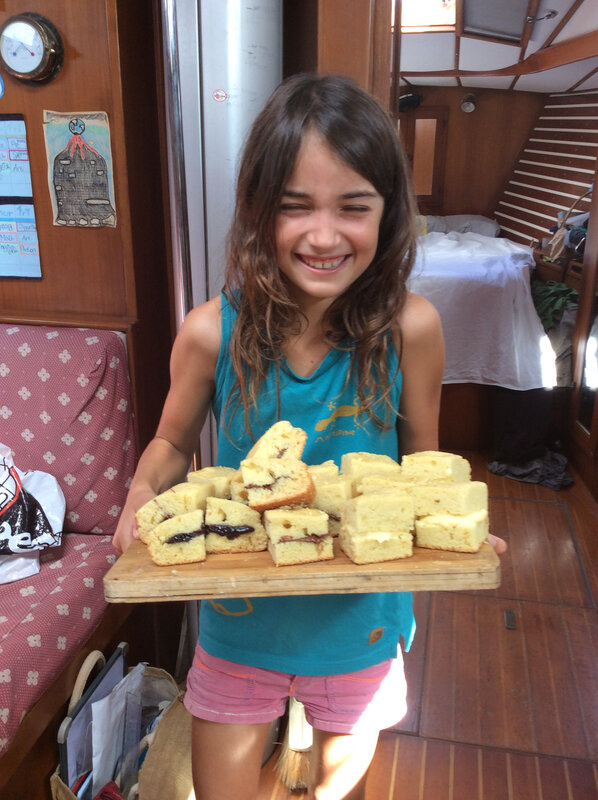 03 janvier 2018
You know I live on a boat, but I haven't told you what happens on board!
Our boat is called Cocolo. Cocolo is a sailing boat with one mast, a main sheet and a very big steering wheel. The hull is white with a thin blue line and a red bottom. The name of the boat is written on the stern (the back) right next to the platform that my Dad made ( so you can swim, dive off it, etc.) Cocolo is 52 feet (which is quite big for a boat).
if you climb up the platform on the boat you will find yourself in the cockpit ( which is where the steering wheel is). The cockpit a bit like a living room but outside. Oh, I almost forgot we have TORTOISES 🐢! It's hard work but fun. We have two tortoises Crazy and Pebbles. Last year we only had Crazy. She used to be smaller than my palm, but now she barely fits in both of my hands put together! Anyway Pebbles is a bit bigger than Crazy used to be. We have a chart saying...
CRAZY & PEBBLES like to eat...
Mango
Avocado
Banana🍌
Cucumber
Lettuce
Eggs 🍳
Beans
Pachoy
Pumpkin 🎃
Tomato 🍅
Cheese 🧀
Plantain
Grapefruit ...
and many more things.
Usually me and Nina put them outside in the cockpit for the day, in the evening we put them in a small box for sleeping covered with black cloths.
Andy (our friend) lent us the tortoises! Did you know that tortoises are cold blooded animals? They can also live up to more than 100 years old! I like the tortoises because they are like a friend, but it's quite unpleasant when they have to use the toilet, it's not that fun.( unfortunately we only had them for a month and a half because we were heading North).
FACTS:
- The shell is 60 different bones.
-Pregnant females will burrow and lay up to 30 eggs 🍳 ,they will leave them to incubate and hatch entirely on their own.
- Altough they have no teeth they have strong mouths with horned hedges.
- The Galapagos tortoises are the biggest tortoises in the world and males weigh over 200kg (440 lbs) on average.
- As we get energy from food, they get energy from the sun ☀️.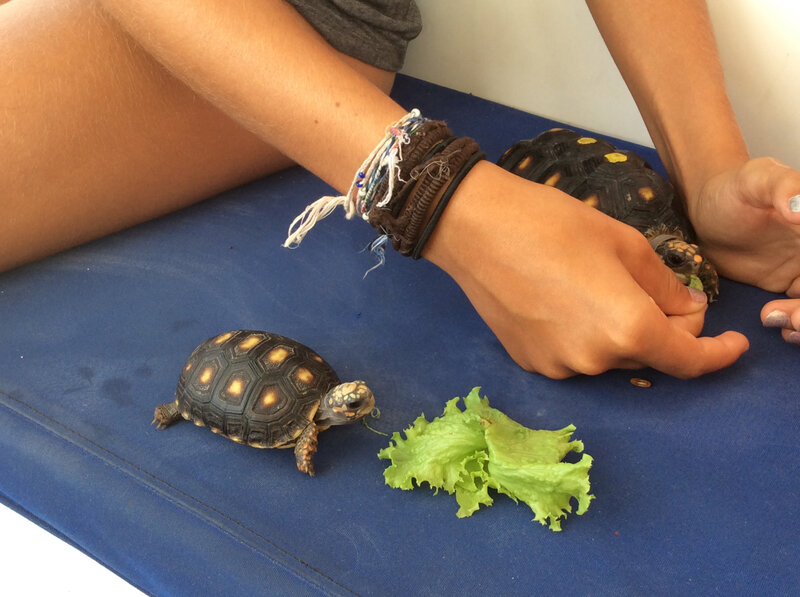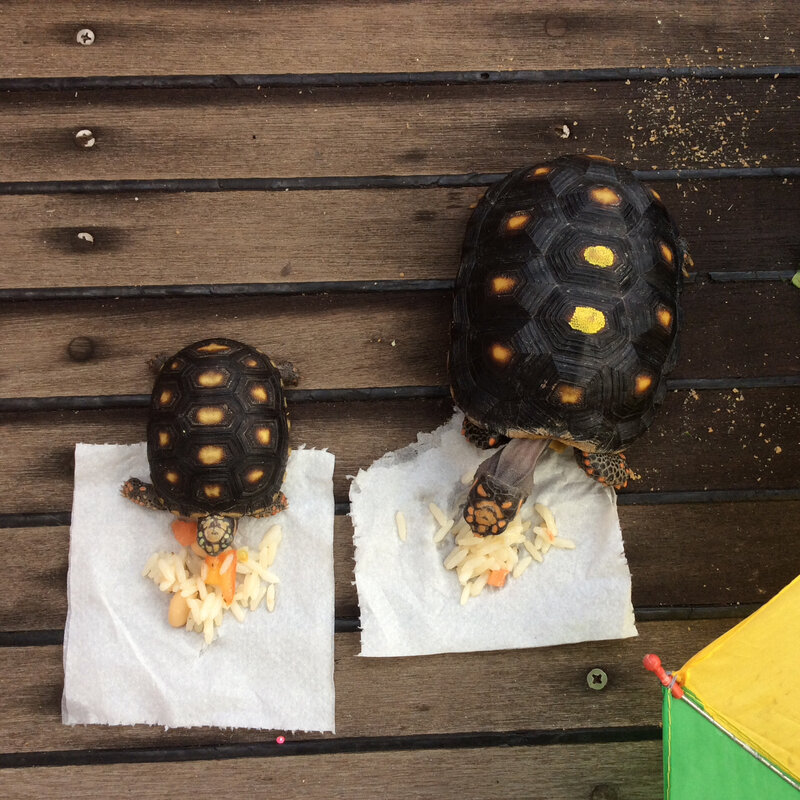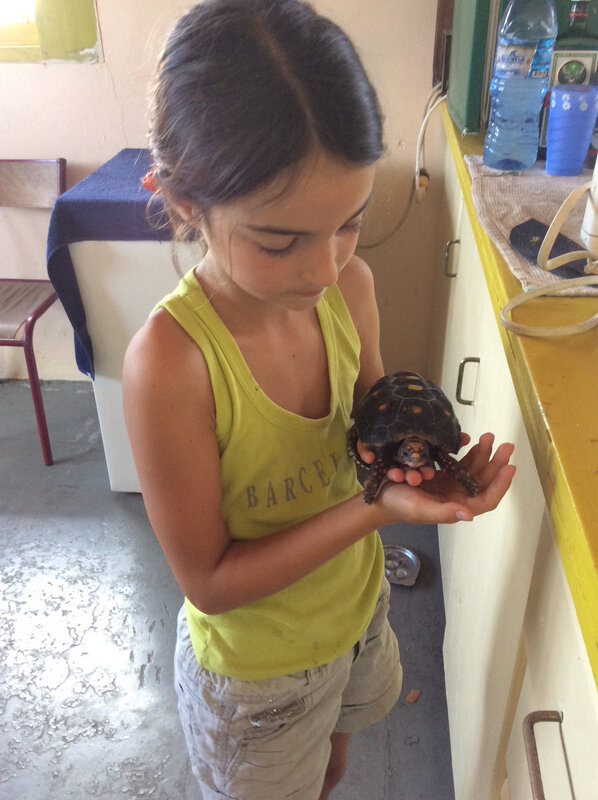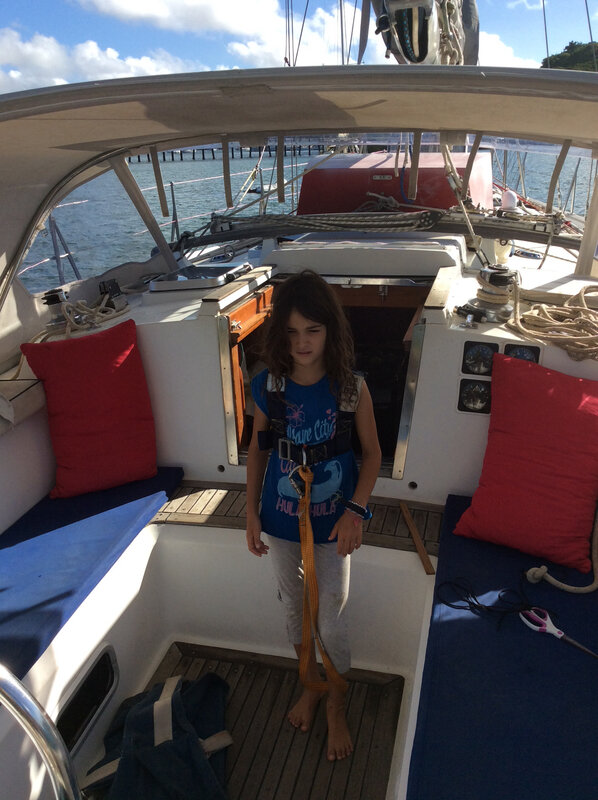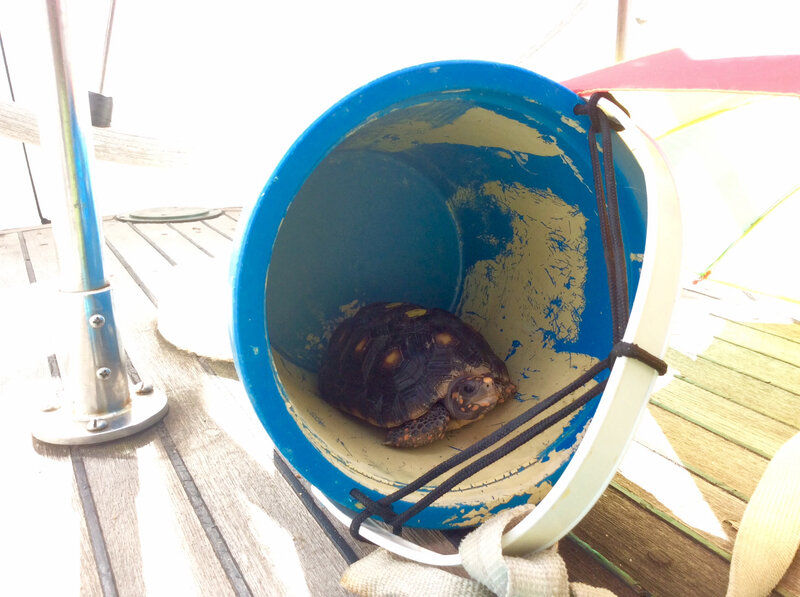 Crazy is the one with the two yellow dots on her back, that Andy painted on so he didn't forget who was who.
04 décembre 2017
As I carefully slid open the ice dungeon door, I realised the place had no roof. I felt the cold wet rain trickle down my neck. I was just about to leave when I bumped into something wet. It felt a bit like a scruffy soggy blanket. As I bent down to examine the object, I could hear the scraping of claws on the cold stone floor. Quickly I stood up astonished to see the creature grow, tingiling head to toe.
Pulling my arms around my face, I waited and waited bracing for pain to arrive, but nothing happened. Forcing down my trembling arms I saw a dark confused face staring at me. So slowly and comforting I touched the creature. It had a long thin nose with emerald green eyes. I smelt a hint of wet dog around me but it couldn't be, it seemed more wild. Just then I heard footsteps and the door suddenly flung open and closed with a thud...
I hid just in time as a powerful looking man stormed in shining his torch at a blanket."Was it all my imagination?" I asked myself, but then a baby wolf tumbled out, "I was scared of that?", I said chucking.But as I looked closer I realised the cub was limping and obviously badly treated and that was when I noticed an electrified collar around her neck. Suddenly a man shouted " hey boss come and check this out".
As I watched him slump off I tried to pull my pocket knife avoiding being caught and without hesitation I run up to the cub and sliced open the collar. Scooping her into my arms I ran for my life. I could almost feel the warm stinky breath of the man behind me. I was about to give in, but he did instead. That was it. The cub was free.
By Kim Stella Sanders
22 novembre 2017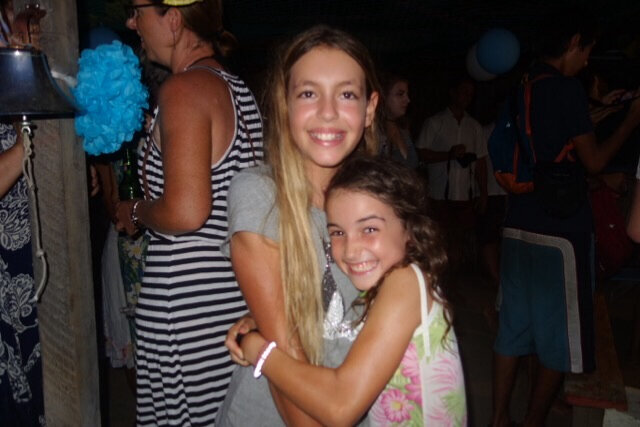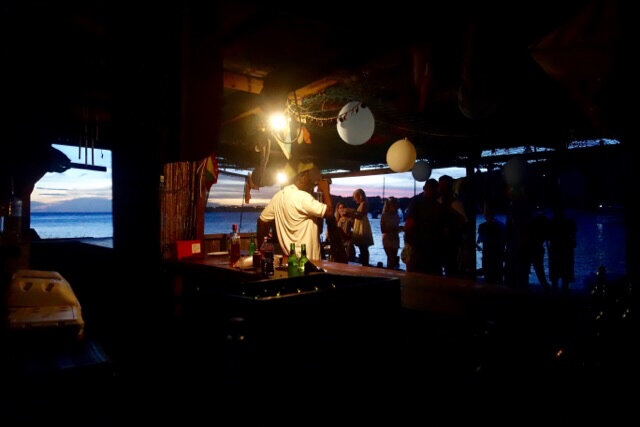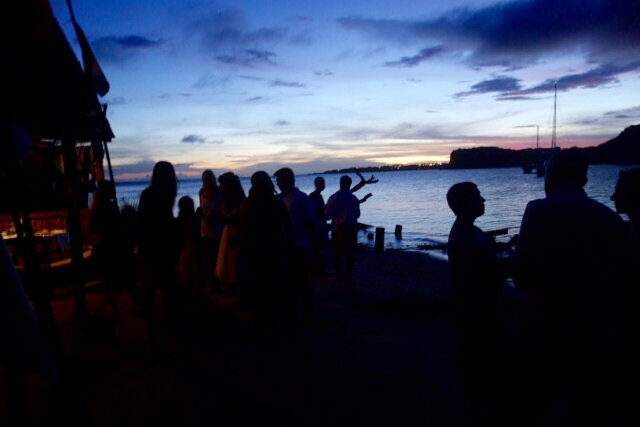 Today is a special evening for whoever knows Mark and Lisa...it's their Wedding!
Me, Nina and some friends helped prepare all the decorations. The wedding is set in Hog Island, a small beach, in front of where we are anchored. There is a little bar, a man called Roger owns it, (he's very friendly). We decorated the bar with white and blue balloons hanging from the ceiling.we also made an arch with a professional lady, she brought exotic flowers 🌺 .They were red, white with pink shadings, blue, yellow and orange but it was not only the look, shapes and sizes but also the smell and the detail. It smelt as if the pollen was turning into honey inside.
Finally we went back to our friend's boat and started to get ready for the wedding. I wore a beach dress with flowers on it. The bride 👰was beautiful. She wore a white dress just bellow the knees with white ribbon on her waist, she also had embroidery of the same colour on the cloth of her dress.
Once the bride and groom arrived on a boat filled with delicate flowers the party started. There was delicious food( we made a pasta salad), drinks, blues music. Once it started to get dark they put beautiful candles inside paper bags filled with sand on the tables. Me, Erin, Francesca and William played some kind of stuck in the mud. A little while after we released some paper lanterns in the sky. Unfortunately the second paper lantern got stuck on our friend's boat mast, and it burned the VHF antenna and the wind direction instrument, which was a mistake. After some dancing a lady took out an amazingly detailed cake And the surprising think was, she actually made the whole thing herself and she took three whole days to make it which was an astonishment! It had a blue coat of icing with shells, flip flops, starfish and even on the top there were two white deckchairs, ready to be eaten! On the cake for sand she used scrumpled digestive biscuits. It had vanilla on the top layer and chocolate 🍫 on the bottom layer.
it was a beautiful wedding !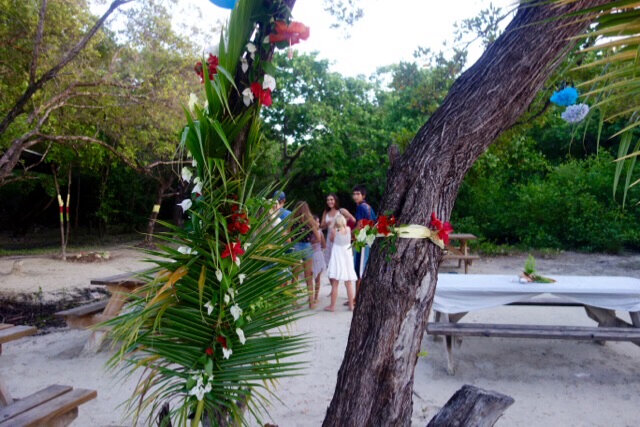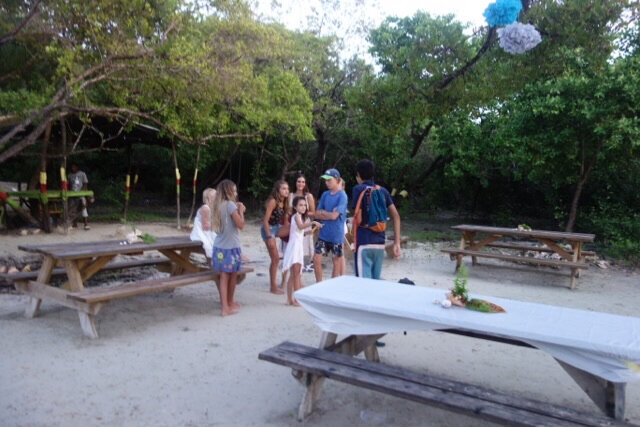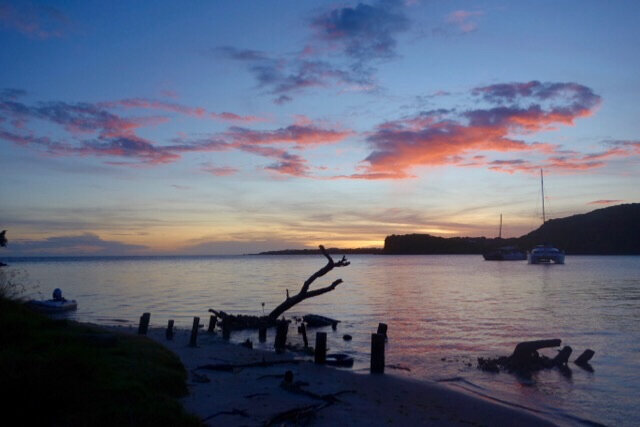 08 novembre 2017
Yes! It's Saturday today!
Every Saturday we go shopping."Oh, it's probably not fun for you, you know shopping in Tesco", but here it is an exciting thing. We have to do it early in the morning because it's boiling.
As soon as I arrived at the market from a long trip bus to bus, colours flamed all over the place. I could see houses of every single colour you can imagine: bright pink, purple, blue, yellow, not like the the white and grey houses you get in England and the fruit is different to the usual pears 🍐 and apples 🍎 or oranges 🍊. Here instead you get passion fruit which looks like monkey's brain inside but is still delicious, or skin ups. Golden apples can be very sour, plantans look like a massive banana but you fry it instead (I have them every day for breakfast). Unfortunately is not mango season. There are actually much more fruits but it would take me almost the whole year to write them all down.
The market is in the main town (St Georges), by the water on the hot tar coated road under the blazing sun☀️. Some people sell on the pavement under a piece of cloth for shade, others sell in colourful wooden shacks off the back of thier trucks.(I would never sell there, it's too hot!) Fish 🐟 and meat 🍖 are sold under some sort of roof, unfortunatly there is not air conditioning. As soon as you enter the fish🐟 market a strong smell of fish wafts up your nose. If you look in thier display tubs, you will see fish of all different shapes and size, patterns and colours. We usually buy tuna but last time we tried shark. I didn't like it that much, was too gummy. We don't buy chicken or meat because it's full of flies and fat. They sell goat sadly!
There is music 🎶 everywhere, mostly reggae.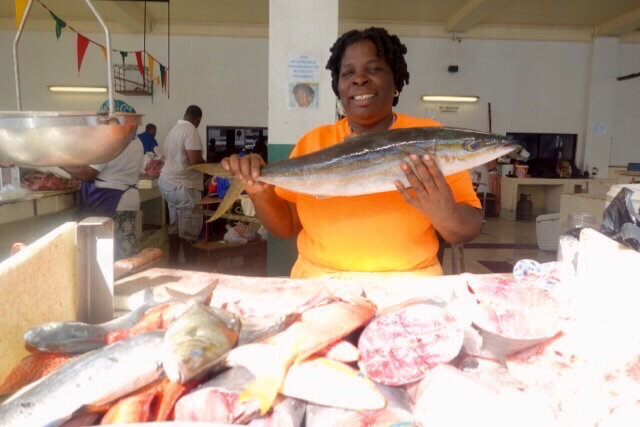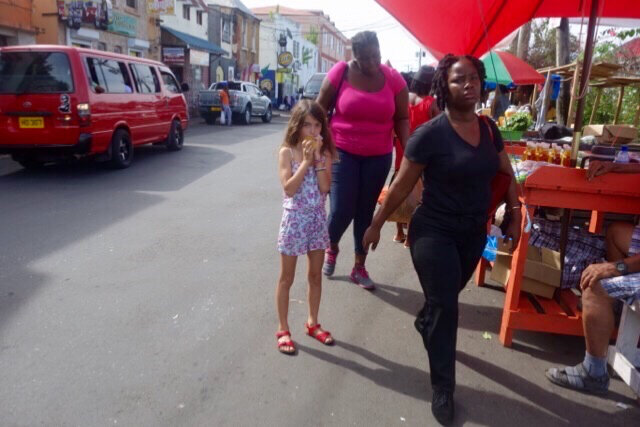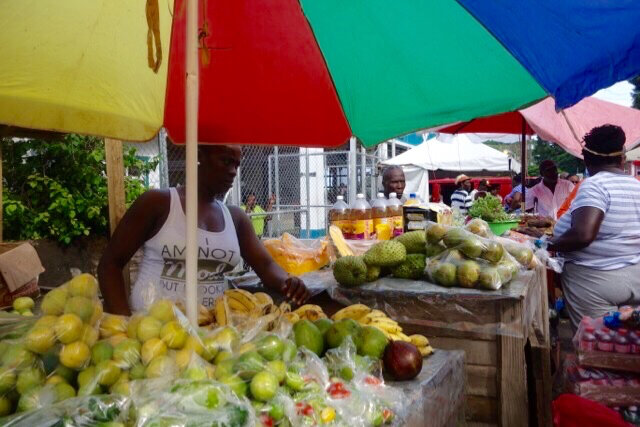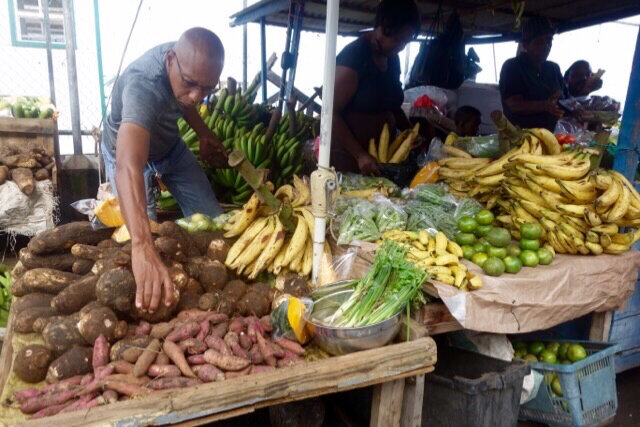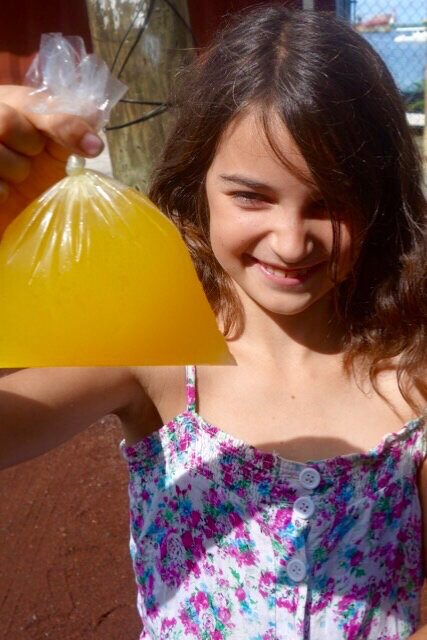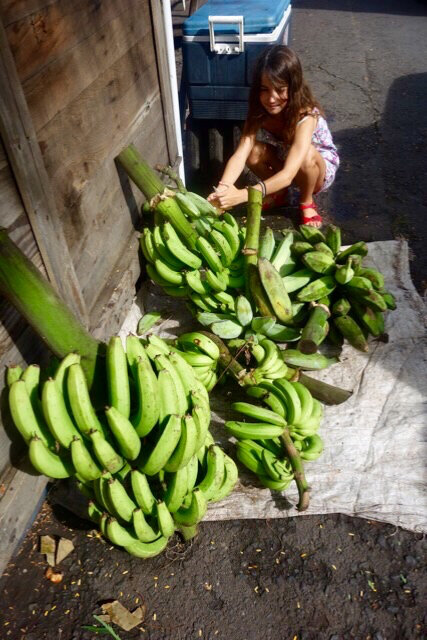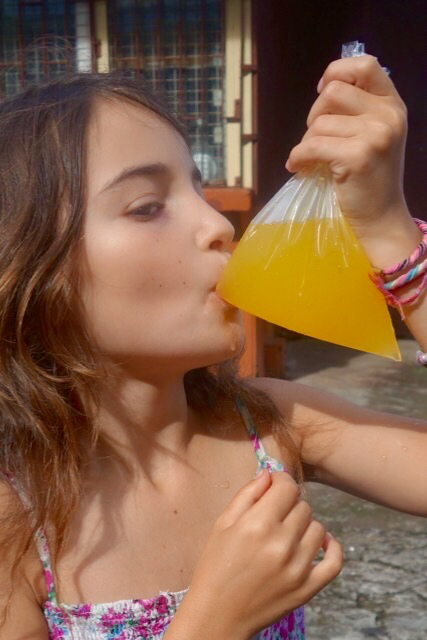 The majority of sellers are women, they are beautiful with brightly coloured turbans in their hair, some even carry baskets on their head. The tropical dresses with their dark skin underneath look fantastic.
Because is so hot I buy these juices in a plastic bag (I usually take passion fruit). Its practically a juice in a clear plastic bag tied up so you have to bite a hole at the edge of the back to suck the juice out.
At the end of the day, me and my sister Nina insisted on getting an ice cream 🍦which melted in seconds!
01 novembre 2017
IMG_1015IMG_1020IMG_1024 IMG_1021IMG_1022

Dear reader, I'm Kim
I am going to tell you about my life on the boat, we have decided to spend a year on our sailing boat in the Caribbean.
It's Halloween next Tuesday but yesterday there was a sort of disco in the marina. I danced all night and played stuck in the mud with some kids ( their face paint was amazing)We didn't get to trick or treat😤 but we did dress up (I was a zombie) instead on Halloween we are going on a dingy and trick or treating on the boats ( can't wait.)😂
Oh I Almost forgot we went to town before the disco, we go every week to get food and we try to be as quick as possible because it is really hot. Dad had to go somewhere to get boat stuff so we waited for him at marketing board which is where we get fruit. Dad was late so in the meanwhile we went to a chocolate shop, where they let me make coco balls and I got to bring it home or should I say to the boat ⛵️. We also got this coco butter that is good for your skin, sunburns and things like that.