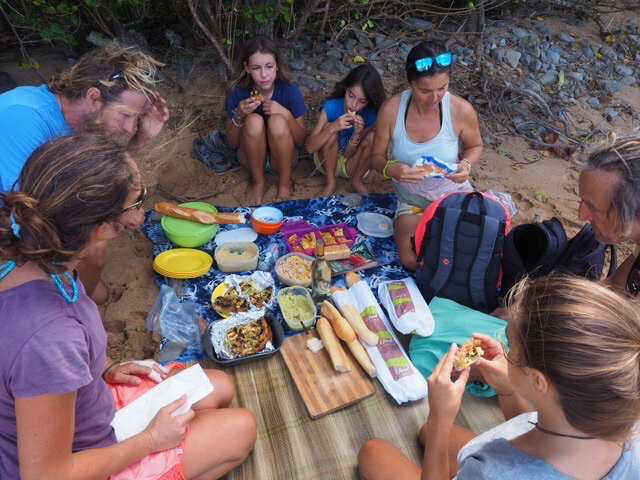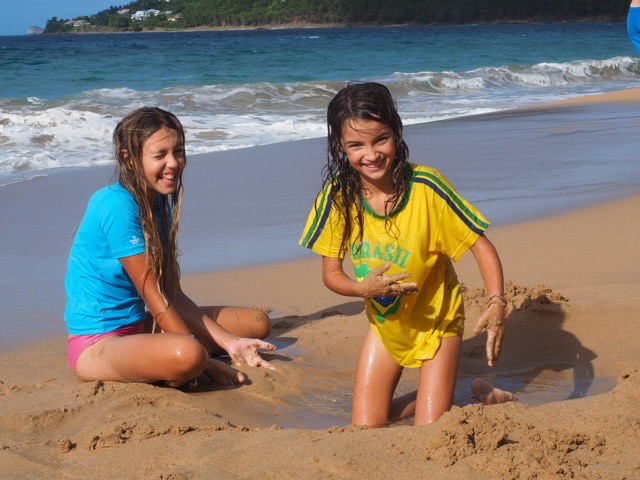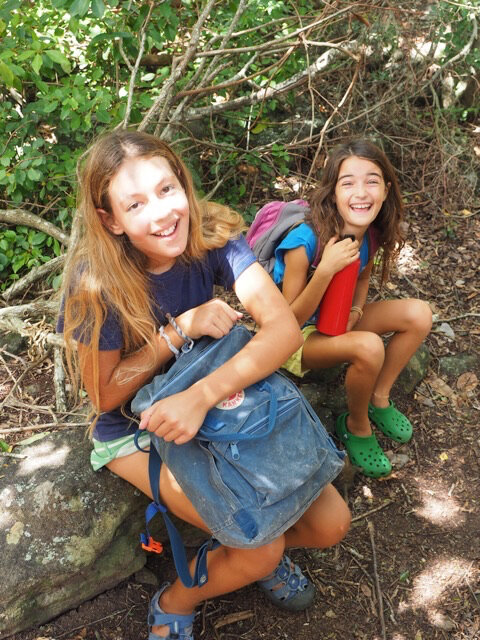 Hello my name is Kim, and this time I will tell you about my Mum's 50th birthday. Personally I loved it all, the breakfast, presents🎁, afternoon walk, pick nick, swim, the beach and all the People. But nothing could over come the evening, so now I will tell you what happened then...

After the walk we all had aching bones, and obviously I had a fever 🤒. But I didn't feel too bad, so that was ok👌. Amazingly our friends Michael (Nina's friend) and Erin (my friend) turned up after a month or so of not seeing each other, just at the right time! So they came too. Now we were 14. Monica, Diego and baby Noah from serena, Francesca and Enzo, the children of Mike and Cathrine and their Auntie Vanessa from Wakataitea, Michael and Erin from flip flops. Unfortunately their parents didn't come and that leaves just my family, which you probably already know. Anyway back to the point, so there we were, all 6 of us children outside on the bow .
After a while me and Erin started to get bored so we went inside. Tried a bread stick, but we both agreed they tasted a bit like plastic, so we went into my parents'room and played a few hands of happy families, which is a card game. So after that we decided to play a board game that my Mum made. We tried to make Francesca play but gradually gave up and played on our own. Every now and again we would catch a few words of what the mothers were saying. Like "oh yes its lovely isn't it?" and ,"oh my gosh look". Oh yes, of course, you wouldn't know, this morning we gave my Mum a painted calabash from me, a wallet/phone case from Nina, a kindle from my Dad, a yoga mat from all of us and this present, the one that personally I think was her favorite ... a hard back novel that we stuck pictures on the pages of, and underlined some lines in the book that matched the picture! Anyway once we had finished the game, (I won) we had some dinner. Erin and I brought our plate to the cockpit where all the kids had transferred to. Once me and Erin started to follow the conversation it was actually Quite fun🙂. When we had all finished our plates we went up on deck again. We stayed there for ten minutes, but after a bit my Dad came to inform us that we had to decorate the cake. We told Michael and Erin that didn't know it was a cheese cake and at these words Michael jumped up and said his favourite cake was cheese cake.
Whilst Nina was decorating the cake Mikel and Enzo kept trying to stick there finger into it, and criticising her in silly things like,"that slice of kiwi is too big" and,"that slice of pineapple is a tiny bit to the right" and things like that as a joke to annoy her (it was really funny 😂)
Once we sang the Happy Birthday thing in Italian and English,practically we just took the candles off the first cake, and put them on a chocolate cake that Wakataitea made, called a crazy cake, (it's vegan), and sang happy birthday in Italian. Unfortunately after a while Micheal and Erin had to go😢 (I would tell you at what time, but I've forgotten!)
Almost at the same time as they left, serena left too. I thought that Wakataitea were going leave too because, 1.Mike was almost asleep and 2. Cathrine wasn't so much of a party animal... but Vanessa her sister was! We heard her shout "I WAS PROMISED MUSIC!" And that's where it all started...
My Dad turned the iPod on and started to dance first, it was just my Dad and Vanessa, then my Mum joined and Cathrine got forced to dance to the song of "Killing me softly". Vanessa Kept on forcing Nina to dance. At one point Vanessa pulled Nina up and started doing the valzer in a more groovy style and kept on bashing into people. She even accidentally sat on Mike 2 or 3 times. After a whike I did the mistake of going to get a glass of water. Obviously I got pulled in too. Did you know that being pulled around by adults is strangely fun! So now I was dancing too. I tried to pull Francesca in but didn't manage. In the end I told her if she danced for 10 minutes and she didn't like it I would stop too. About a minute after francesca started to enjoy herself, Vanessa picked up a bottle of white wine to use as a microphone 🎤 and splashed a bit on her dress 👗 ( she obviously thought it was empty ). An hour later me and Francesca felt sorry for our boat neighbours because our music was so loud. We remembered that lots of times we would hear charter boats with their music loud and think how annoying they were, and now we were being one of those people. After that we went downstairs and tried to get Enzo and Mike to dance, but we didn't manage.
By the time we stopped dancing it was 2.30 in the morning!..and everybody left.

THE NEXT DAY ...my Dad had a hungover and we were all tired. We met Michael and Erin and told them all about the dancing. To our surprise they said " ..oh that was you with the loud music!". And imagine they were right at the back of the anchorage.